Algester Community Newsletter:  COVID-19 Update
Please Note: This is a rapidly changing situation and this information was current as of 01/04/20 at 5pm.
Lifeline Support Phone: 13 11 14 (24 hours/7 days) Text: 0477 13 11 14 (6pm – midnight AEDT, 7 nights)
Premier's Announcement - Care Army
A Care Army of professionals and volunteers will rally around Queensland's seniors, while a new telephone hotline and website is also being launched to help ensure the wellbeing of older people during the Coronavirus pandemic.
The Palaszczuk Government is mobilising the Care Army to protect seniors who are at an increased risk of serious illness from COVID-19.
Queensland's community spirit always shines through in times of crisis, as it did when the Mud Army went into action after the 2011 floods.
I urge all Queenslanders wanting to volunteer to please contact 1800 173 349 or visit www.covid19.qld.gov.au/carearmy.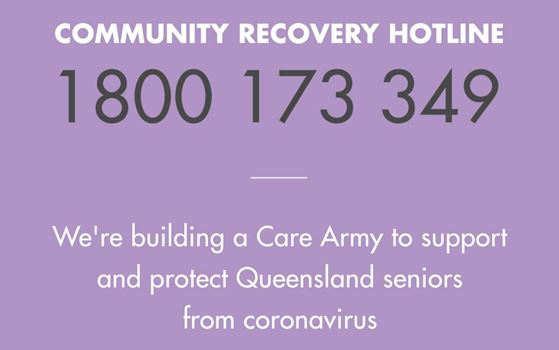 Changes to QLD Border Restrictions
What is changing?
Queensland border restrictions will be tightened across the state from Friday, April 3 2020 to prevent the spread of COVID-19.
Anyone who is not a Queensland resident or considered exempt from the restrictions will not be able to enter Queensland from 12.01am Friday, April 3, 2020.
The restrictions will replace the current arrangements which enable people to cross the border provided they self-quarantine for 14 days.
Unless you are a Queensland resident or have an exemption such as you work here or are required to travel for medical reasons, to care for a family member who lives in Queensland, or are involved in freight transportation, you will be turned away.
It is important to note that people with an exemption must have a border pass prior to crossing the border, unless you are providing Freight transport services.
Why are further restrictions needed?
Strengthening border crossings and reducing the number of people travelling to Queensland will assist in minimising the spread of the virus.
Now is not the time to be travelling interstate unnecessarily.
Since we've implemented border restrictions on Wednesday, 25 March, 19,760 vehicles have been intercepted and police have issued 1,451 quarantine orders to people crossing the border.
The stronger measures will reduce the need for police to conduct follow-up quarantine checks for those who are directed to self-isolate when crossing the border.
What if I don't have a border pass?
If you don't have a border pass, then you will be turned around.
For more information on how to apply for a pass, visit www.qld.gov.au/border-pass
Does this mean more roads will close?
Additional barriers will be erected in the streets of Coolangatta to further enforce border controls.
For more information about border restrictions and exemptions visit:
www.qld.gov.au/about/newsroom/queensland-border-restrictions
What we want Queenslanders to do:
Stay home as much as possible.
Where possible, keep 1.5m between yourself and others.
If you are unwell, stay home. If you are concerned you need to be tested for coronavirus, please call your GP, call 13HEALTH or visit www.health.qld.gov.au/coronavirus.
Wash your hands regularly with soap and water. Use hand sanitiser if soap and water is not available.
Stay up-to-date with accurate, reliable information by visiting www.health.qld.gov.au/coronavirus
The Palaszczuk Labor Government is committed to keeping all Queenslanders as healthy, safe and secure as possible during these unprecedented times. I want you to know that I recognise the stress this is putting on our entire community.
On the 29th of March 2020 the Commonwealth Government announced a freeze on evictions for the next six months due to rent arrears for tenants impacted by COVID-19. The Palaszczuk Labor Government is taking action to ensure that both renters and landlords are supported during the COVID-19 health emergency.
Neither landlords or tenants are to blame for this, and now is the time for tenants to have a chat to their landlords about how they can work through this process and get out the other side of this pandemic with a roof over their head.
The Residential Tenancies Authority is available to help tenants or owners who may need support to find a resolution that works for both parties.
You can call them on 1800 497 161.
Gatherings restricted to two people
As of midnight Monday 30 March, gatherings in Australia will be restricted to two people in a further attempt to contain the Coronavirus pandemic.
The two-person limit does not apply to people within your own household. But gatherings with other friends or family, outdoor or indoor, will need to comply with the new restriction.
Click here for more details
Childcare fees and the Child Care Subsidy are the responsibility of the Federal Government. Education Minister Grace Grace has recently written to her federal counterpart, Minister Dan Tehan about these matters, seeking confirmation of the Federal Government's plans to ensure the ongoing viability of the sector and provide certainty for families.
Currently long day care centres are open and continue to operate as normal.
For those parents who have lost their jobs or are experiencing financial hardship, there are a several options.
Firstly, the federal Government has an existing program in place for eligible families, the Additional Child Care Subsidy Temporary Hardship. For more information click here.
Parents may also wish to discuss these issues with their individual centre to see if alternative arrangements are possible (some centres already have their own financial hardship policies). Some centres have started to introduce online activities (eg reading sessions on Zoom) for kids who are not physically attending the service.
Household Utility Assistance Package
Q. What is the Household Utility Assistance Package?
A: The Queensland Government is providing a $300 Million Household Utility Assistance Package to all Queenslanders during the Covid-19 crisis. This is in addition to the Government's Asset Ownership Dividend package, worth $100 million, and will see households receive a $200 utility payment to assist with electricity and water bills this year.
Click here for the fact sheet.
Following the direction from the Clerk of Parliament regarding the impacts of COVID-19, my electorate office is now CLOSED to the public.

However, we will still be working hard taking your calls and answering emails about the coronavirus and other local queries.

Please call my office on 📞 3737 2110 or email on 📧 algester@parliament.qld.gov.au